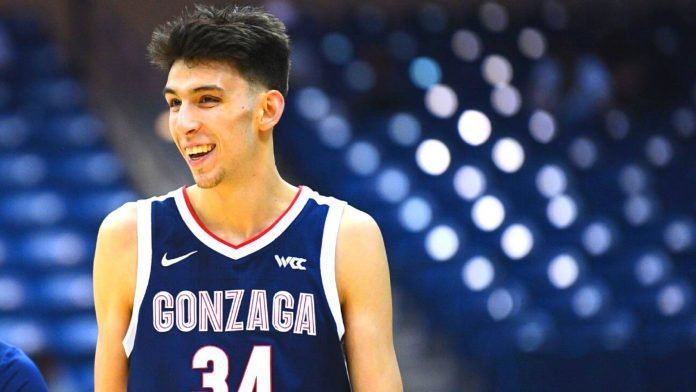 Chet Holmgren was the top-ranked player in the country coming out of high school, averaging 21 points and 12.3 rebounds per game during his senior year.
Polarizing With NBA Scouts
He was named a McDonald's All-American and earned a berth on the rosters of the Nike Hoop Summit and Jordan Brand Classic, two of the most prominent high school senior All-Star games.
Ohio State, Michigan, Over Minnesota, North Carolina, Memphis, Georgetown, and the G League, Holmgren chose Gonzaga and Mark Few.
Gonzaga was surrounded by a lot of buzz heading into the 2021-22 NCAA season. Despite losing their standout point guard, Jalen Suggs, to the NBA, the Bulldogs were able to replace him with Holmgren, as well as power forward Drew Timme and point guard Andrew Nembhard.
Holmgren dominated conference play during his one year at Gonzaga, earning eight double-doubles and averaging 15.6 points, 9.6 rebounds, and 3.7 blocks per game in the second half of the season.
Chet Holmgren's Professional Strengths
With 117 blocks last season, he's undeniably an excellent rim protector and one of the finest weak-side block defenders in the country.
On offense, he's unlike any other 7-footer in the league in that he can handle the ball like a guard, bringing the ball up after a missed shot or taking guys off the dribble from the outside. Holmgren placed in the 93rd percentile and averaged 1.4 points per possession in transition.
Holmgren has been a consensus top-three draught pick all season, and the top three clubs — the Orlando Magic, Oklahoma City Thunder, and Houston Rockets – all need frontcourt and rim protection help. If Holmgren is selected first overall by Orlando, he will be reunited with his high school and AAU teammate, Suggs.
"We've logged a lot of game minutes together," Holmgren told Stadium's Shams Charania. "Just having the stars align and being able to play together again would be insane, and if it does happen, I believe we'd be beyond happy to perform together again."
Chet Holmgren's questions have advanced to the next level.
The Magic's sole hesitation in selecting 7-foot-1, 195-pound center Chet Holmgren with the No. 1 overall choice is his stature.
He struggled to bang in the post against stronger forwards and centers in college, but he always got back up and moved on to the next play if he was defeated.
What Do Scouts Have To Say?
NBA scouts like his flexibility and believe that the NBA's space will accommodate Holmgren rather than forcing him to play inside with Time in a system with a more established offense.
"With all of his other talents and powers, he's so distinctive physically, and if you're ready to take that home run swing, he's completely worth it."
Whether it's the Magic taking a risk on Holmgren and reuniting him with a former teammate with whom he already has chemistry, or the Thunder, where he might be receiving lobs from Josh Giddey, Holmgren won't have to wait long to hear his name called on draught night.
Is Holmgren The Sport's Next Evolution? Is He Just A Competent Player With a Frail Frame?
The Orlando Magic have the first overall pick, and the burden is on them to get it right. The team does not want to pass on a possible generational big man.
Orlando, which finished with the league's second-worst record, requires a star to lead its young core.
Smith may be a "safer" choice. However, Holmgren's sheer skill is difficult to overlook. There hasn't been somebody with this much buzz in a long, long time. If Holmgren is selected first overall, he will be the first American-born Caucasian player to do so since Indiana center Kent Benson in 1977.
Holmgren was in a perfect situation in many respects. He joined a well-stocked squad. He wasn't even his team's first choice. Drew Timme was named Player of the Year in the West Coast Conference. Holmgren was able to develop into his role as a result, and despite some early hiccups, he concluded as the conference's Defensive Player of the Year.
Holmgren has a lot of mobility considering his stature. When you add in his wingspan of 7'6′′, he might be a defensive nightmare. Even though he was fourth on his team in minutes played, he was fourth in the country with 3.66 blocks per game last season (26.5). Holmgren should be able to make an early impact defensively since the NBA is constantly seeking guys that can guard several spots.
Read More:
Warriors' Klay Thompson Celebrates NBA Finals Game 4 Win Over Celtics!
Commanders Still Far Apart In Contract Negotiations With Terry McLaurin!
Baker Mayfield To The Minnesota Vikings Is Seen As A Possibility This Year