Arike Ogunbowale of the Dallas Wings turned on the lights at the legendary Reunion Tower landmark on May 11. Ogunbowale, dubbed a "lights out" shooter, was the highlight of a showcase event that sparked a season-long community giveback campaign dubbed "Dallas Has Wiiings."
Arike Ogunbowale Launches 'Dallas Has Wiiings' Community Project, lighting up The Dallas Skyline
Every 3-point shot Ogunbowale makes in the official 2022 WNBA season will earn her $800 for new solar-powered lighting systems at Dallas community courts in need of improvements, thanks to a partnership between Ogunbowale and Red Bull.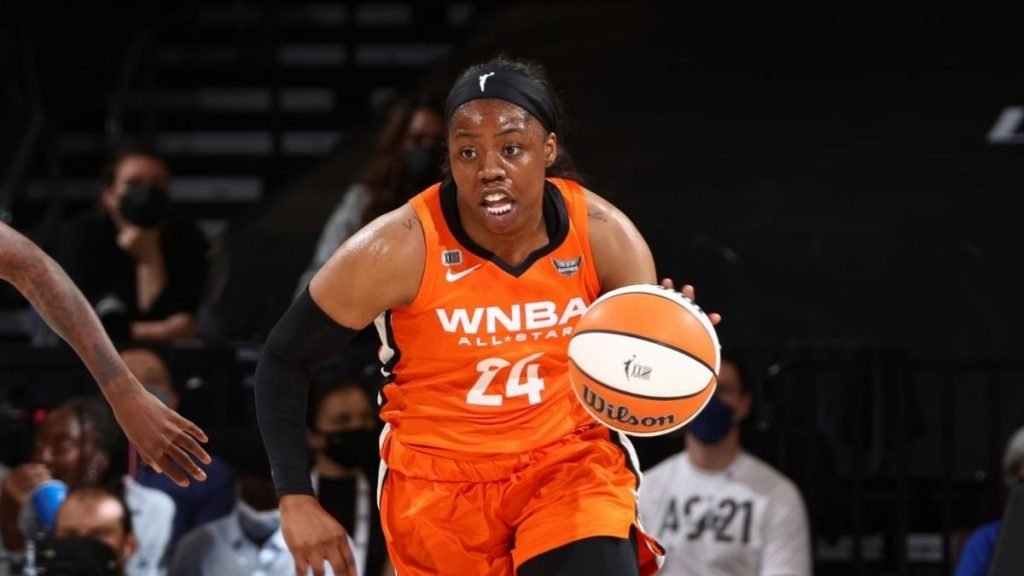 Arike Ogunbowale is a 25 years old American professional basketball player born and brought up in Milwaukee, Wisconsin. Arike plays for the Dallas Wings as a 5th overall NBA draft pick by them.
She was selected as one of the most valuable players with 26 points on the team. She was named the Most Outstanding Player of Notre Dame's 2018 national championship, which gained her love from all over the world. 
Arike was born as the youngest child to Yolanda and Gregory Ogunbowale, who hold Nigerian ethnicity.
Her father served in the Nigerian military and her mother and siblings were sport-oriented; she naturally cultivated a love for basketball.
Ogunbowale took shots at a basket created and built on a makeshift court overlooking Reunion Tower to commemorate the initiative's inauguration.
A sphere of lights lit on the tower ball every time she knocked in a 3-point shot from the official WNBA 3-point distance, with family and friends in attendance. She kept shooting until she made ten 3-pointers and the lights of Reunion Tower turned into a big basketball.
Ogunbowale said as a basketball player, it is going to be amazing to see courts lighting up and to watch people play basketball on the courts with the lights on every night.
The "Dallas Has Wiiings" initiative runs from May 7 to August 14, and any donation will help with restoration work.
Ogunbowale also says that people will spend more time outdoors playing games with the solar light on. And she also shows her excitement about welcoming green and using sustainable technologies in the park system.
As Dallas is her home, she is very much excited for people to play outdoor games and enjoy.
Arun Agarwal, Dallas Park, and Recreation Board owner, says people are going to have more fun with their family and friends outdoors with solar lights being installed.
Arike Ogunbowale's athletic successes have always been defined by her ability to score. She outscored every guy and woman in a Wisconsin high-school basketball tournament game.
She clinched Notre Dame's second-ever national championship by hitting two of the most famous shots in NCAA Final Four history. She also won the WNBA scoring title before she turned 24.
She now wants to use her scoring abilities to give back to the community, which she has agreed to represent for another three years.
The endeavor comes after the Dallas Wings invested in Ogunbowale by signing her to a contract extension a few months ago that will keep her as the franchises face until at least 2025.
Read More: