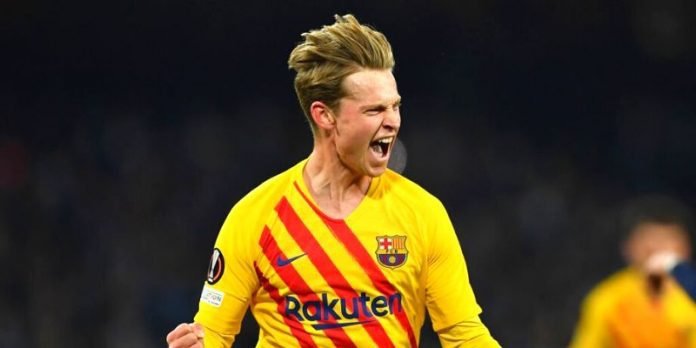 Manchester United and Barcelona are reportedly "close" to reaching an agreement regarding the transfer of midfielder Frenkie de Jong from Barcelona to Old Trafford.
This is supposedly the case, according to a report that claims United are getting close to reaching an agreement with the Spanish giants to sign the Dutch international player. United have their sights set on adding De Jong to Erik ten Hag's roster this summer after identifying him as a target earlier this month.
When De Jong was a player at Ajax, Ten Hag was his coach. Under Ten Hag's tutelage, De Jong developed into the talented midfielder he is today. Ten Hag received a steady tune from the midfielder and has already made contact with the player's agent in an effort to be reunited with him at Old Trafford.
Although United want to improve their squad in a variety of positions over the course of this summer, the centre of the field is expected to be their primary focus. They have a desperate need for a box-to-box player like De Jong and are eager to acquire a defensive-minded midfielder. They are desperate for a defensive-minded midfielder.
The report states that Manchester United are attempting to finalise a deal for the 25-year-old player, who has scored four goals and grabbed five assists so far this season, for a price of £68.7 million. However, United will not participate in the Champions League during the upcoming season, which may prove to be a barrier for the club.
Even though they finished in a disappointing sixth place in the Premier League table, Manchester United will be playing in the Europa League next season. This is in contrast to Barcelona, who have already been accepted into the competition.
According to the Sunderland Echo, United have been provided with a welcome boost in their pursuit of Villarreal star Arnaut Danjuma. This information was provided by an anonymous source. There are rumours circulating that Newcastle United have abandoned their pursuit of signing the Dutch player.