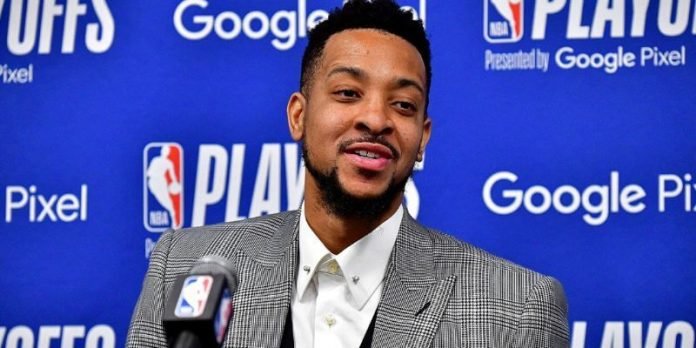 New Orleans Pelicans player CJ McCollum has decided to join ESPN as an NBA pundit. Thursday night's alternate broadcast of Game 1 between the Boston Celtics and Golden State Warriors on ESPN2 will include McCollum's NBA Finals debut.
Pelicans Star CJ McCollum Has Joined ESPN As An NBA Analyst!
The NBA Finals podcast McCollum will produce with ESPN will be available on all streaming platforms, and his work with ESPN on the NBA Finals. Additional duties include NBA Summer League coverage for ESPN and studio and on-air commentary for multiple outlets, including NBA Countdown, NBA Today, SportsCenter, Get Up, and First Take.
The game that I've garnered over my nine years in the NBA." I'm excited to provide my unique viewpoint on the game, which I've learned from years of experience as a professional basketball player."
CJ McCollum Is An NBA Analyst For ESPN
As NBA Players Association President, CJ McCollum is one of the most highly respected players in the league, according to ESPN's Head of NBA and Studio Production, David Roberts. "CJ is regarded as one of the NBA's top players."
As a member of the New Orleans Pelicans, one of the league's most exciting squads, and as a leader of that group, he excels in many other areas. The devotion and excitement for journalism and sports broadcasting that CJ has demonstrated to grab this opportunity will surely benefit NBA fans.
In the 2021-22 season, McCollum was traded to the New Orleans Pelicans after eight seasons with the Portland Trailblazers. With the Pelicans, he appeared in 26 games and averaged 24.3 points per game, which helped the team advance to the playoffs. However, after losing to Phoenix in the first playoffs, New Orleans could not advance to the second round.
Earlier this week, the network announced that it had struck a multi-platform deal with the Pelicans star player. With "NBA Finals: Celebrating 75," which will air on ESPN2 on Thursday, he will make his debut on ESPN during the show's alternate presentation of the Golden State Warriors-Boston Celtics Game 1 of the NBA Finals.
At Lehigh University, McCollum studied journalism and has previously worked as a commentator for ESPN. You can view all of his previous appearances right here.
The opportunity to work with some of the industry's most experienced journalists on the world's largest platform is "a dream come true," she said.
ESPN and McCollum are teaming together to produce a new podcast. In addition, he will provide commentary for a few games during the NBA Summer League coverage and make a few guest appearances on various studio shows during the year.
Conclusion
CJ is generally recognized as one of the NBA's most esteemed players because of his role as President of the NBA Players Association.
According to ESPN's Director of NBA and studio production, David Roberts, he is a great player for the New Orleans Pelicans, one of the most dynamic teams, and a team leader. Fans of the NBA will undoubtedly benefit from CJ's commitment to this opportunity and his excitement for journalism and sports broadcasting.
Explore More: